MESL 2020
Issued: July 2020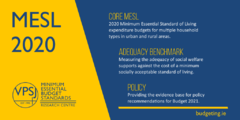 Summary
The following 2020 MESL expenditure data and income adequacy assessments are available.
Core MESL expenditure needs data for all household types in 2020
2020 MESL Income Adequacy Benchmark - Social Welfare & National Minimum Wage scenarios
Evidence based policy recommendations for Budget 2021.
The 2020 MESL data is the product of a full review and rebase project, undertaken throughout 2018 and 2019.