MESL 2020
Issued: July 2020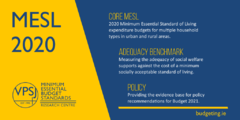 Download
Summary
In advance of the publication of the full MESL 2020 update report and detailed analysis, the following MESL expenditure data and income adequacy assessments are being made available.
Core MESL expenditure needs data for all household types in 2020
2020 MESL Social Welfare Income Adequacy Benchmark
Evidence based policy recommendations for Budget 2021 - publication forthcoming .
Employed income scenarios, examining the adequacy of the national minimum wage and in-work supports, are forthcoming. 
The publication of the full MESL 2020 report has been delayed due to impact of COVID-19, but will follow in due course.