Examining the accuracy of inflation adjustment and... MESL Working Paper
Issued: February 2021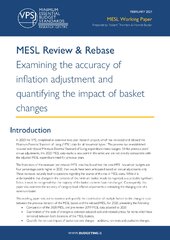 Download
Summary
This paper examines and quantifies the contribution of multiple factors to the change in cost between the previous iteration of the MESL basket and the reviewed & rebased MESL for 2020, presenting the following:
Comparison of the 2020 MESL and pre-review 2019 MESL data adjusted to 2020.
Examination of the scale of divergence between adjusted cost and rebased prices, for items which have remained between both iterations of the MESL baskets.
Quantify the net cost impact of basket content changes – additions, removals and qualitative changes.