MESL Review & Rebase 2018-2019 Report
Issued: December 2020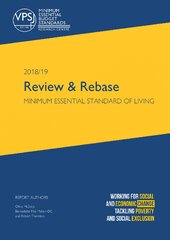 Download
Summary
This report presents the 2018/19 Review and Rebase of the MESL data for Households in Ireland. While the expenditure data is adjusted on an annual basis to reflect current costs the content of the different MESL Household budgets is reviewed and the cost rebased on a regular basis to ensure that the budgets reflect current consumer preference.
The Vincentian Partnership for Social Justice (VPSJ) Minimum Essential Standard of Living (MESL) research works with members of the public to reach agreement on the minimum income needed to have this standard of living. The research identifies the goods and services required to enable a life with dignity at a minimum acceptable standard that members of the public agree nobody should be expected to live below.
The 2018/2019 Review and Rebase of the 2012 MESL data demonstrated the importance of the regular review of the content of each of the household budgets. The minimum essential standard of living which meets physical, psychological, and social needs at a minimum but socially acceptable level has remained relatively constant over time for the content of the majority of the budget areas. However, developments in Government Policy and advances in technology have impacted the content of areas such as Health, Transport and Social Inclusion and Participation.
The study also identifies changes in the cost of goods and services at two points in time – 2012 and 2018/19.
A presentation discussing preliminary findings, at a seminar in December 2019, is also available.