Low Hour Work & Income Adequacy MESL Working Paper
Issued: March 2016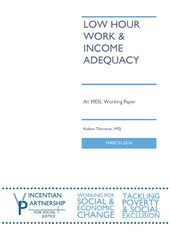 Download
Summary
This MESL Working Paper examines the other side of the low pay coin, low hour employment.
The paper demonstrates situations of low hour (up to 20 hours) minimum wage employment, and the effects both on direct salary income and entitlement to additional social welfare supports. The analysis focuses on the income consequences of low hours; how the structure of the social welfare system supports and number of hours and days worked impacts overall household income, and places this in the context of the cost of an MESL and household income adequacy.
The paper focuses on minimum wage employment, as those in minimum wage employment are more likely to be working less than full-time hours and classified as part-time, and twice as likely to be in low hour employment as employees generally.
Two household types are examined: a Single Adult of working age, and a One Parent & One Child household.