What is the cost of a healthy food basket? Republic of Ireland 2018
Issued: July 2019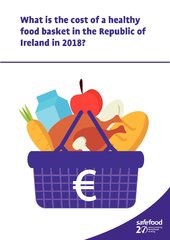 Download
Summary
"Food poverty" is defined as the inability to have an adequate and nutritious diet due to issues of affordability or accessibility. One in ten households in the Republic of Ireland (ROI) are experiencing food poverty. The cost of healthy food is a major contributing factor in people's inability to access a healthy diet. Food poverty is multidimensional. It encompasses both the lack of access to a nutritionally adequate diet and the consequential impact on health and social participation.
Among the barriers to a healthy diet are competing pressures within a limited household budget and the unavailability of local stores that stock an adequate range of healthy foods. Rural areas and smaller urban towns may not have accessible transport to larger stores offering a wide range of healthy food items. Low literacy and food skills, lack of access to education and information on healthy eating are also contributing factors to an inadequate and unhealthy diet.
This study is the third to determine the cost of a "minimum essential food basket" for 6 household types across urban and rural Ireland. The first study in 2015 covered the period 2006 to 2014. The second study in 2016 covered a 2 year timespan from 2014 to 2016. This study also covers a 2 year timespan, from 2016 to 2018.