The Cost of A Child
Issued: June 2012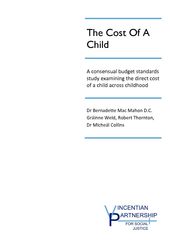 Download
Summary
This report, using the consensual budget standards approach, presents what it costs for a child to have a minimum essential standard of living; a standard of living that is based on needs not wants but is more than survival. 
This study focuses on the direct costs of children, i.e. costs that can be solely attributed to the child e.g. food, clothing, education and personal care etc. Items and services that are consumed by children and other members of the household, for example household furnishings and equipment (apart from the furniture in the child's bedroom) and use of the family car etc have not been attributed to a child and therefore are not discussed in this report.
The report also presents the findings with and without childcare costs to demonstrate the financial impact that the cost of childcare can have on those who work outside the home. Furthermore, costs are also given for urban and rural locations to take account of different and or additional needs that children may have depending on their location. Differentiating between urban and rural locations also captures the shopping patterns of focus groups participants and the availability of, and ease of access to shopping outlets, as well as the difference in the cost of goods and services between the two locations.
Having established the direct expenditure children need for a minimum essential standard of living, the report moves on to analyse the adequacy of child income supports in Ireland in light of the minimum expenditure needs across childhood. For the purposes of this study, the adequacy of three child income supports are examined namely Child Benefit, the Qualified Child Increase and Family Income Supplement.