Minimum Household Energy Need MESL Technical Paper
Issued: December 2014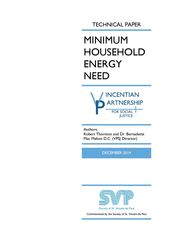 Download
Summary
This paper demonstrates the impact of dwelling efficiency on household energy costs.
The degree to which the cost of household energy is a burden on a household is the product of multiple factors, the price of energy, the energy efficiency of the dwelling and the income of the household in question. To demonstrate the varying impact and interplay of these factors, this paper identifies the household energy need for three dwelling types at different levels of efficiency, and examines the burden of this energy need for three household types in multiple income scenarios.
The analysis presents the overall expenditure required for a Minimum Essential Standard of Living for three household types, examining each household type in two income scenarios. The paper demonstrates the impact the energy efficiency of the dwelling a household resides in, on the overall minimum expenditure need of a household, and on the household's vulnerability to energy poverty.