Minimum Essential Budgets For Households in Rural Areas
Issued: January 2010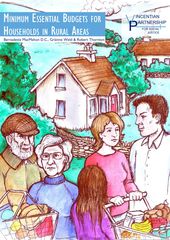 Download
Summary
A minimum income does not guarantee a minimum essential standard of living. However, individuals/households with an income below that minimum cannot have a standard of living which meets - physical, psychological, spiritual and social needs.
The current measures of income adequacy – e.g., the National Minimum Wage (NMW), social welfare payments – are all arbitrary. They have been developed by negotiation between policy-makers at government level and not on informed social consensus about what households need in order to have a minimum essential standard of living. It is inevitable that people will be trapped in poverty for as long as their income fails to meet their minimum needs.
To-date the work of the VPSJ has focused on the development of minimum essential income standards for urban areas. Because of the limited factual evidence on how needs and costs vary for households in rural areas a decision was taken to provide this data.
The aims of this study into the cost of a minimum essential standard of living for different household types in rural areas are:
To identify the additional or different costs faced by households in rural areas to ensure the same standard of living as urban households.
To present the cost of living in rural areas in a manner which informs social debate, provides data for policy-makers and government decision-makers and is of practical use to organisations working with people on the ground.
The work of the VPSJ in developing minimum income standards for household types in urban and rural areas is a statement of the Partnership's commitment to working for an income which allows individuals and households to live with dignity to meet basic physical, psychological, spiritual and social needs and to contribute to society