Impact of the Differential Rent System on the Cost of an MESL MESL Working Paper
Issued: November 2015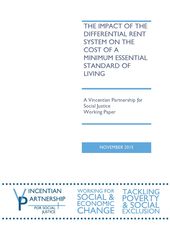 Download
Summary
This paper demonstrates the variation in rents payable by local authority tenants paying a differential rent in the four Dublin local authorities, and the impact that this has on the cost of a Minimum Essential Standard of Living for four household types in two different income scenarios.
In Ireland, local authority accommodation operates on a differential rent system. Under the differential rent scheme rent paid is directly related to household income. Each local authority operates its own rental scheme and there is not a standard method for calculating rents across local authorities throughout the State. Therefore, identical household types with the same income may pay different amounts in rent depending on the criteria stipulated by the local authority where they reside. This paper analyses the current model and the differential rent systems that are operational in the four local authorities in Dublin.
The paper underscores the lack of horizontal equity in the differential rent system and the need for a new rents framework that will significantly harmonize rents across local authorities throughout the state.