Estimating the MESL costs for families in Direct Provision Working Paper
Issued: May 2023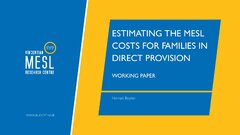 Download
Summary
This Working Paper presents the estimated MESL costs for families adjusted to reflect living within the Direct Provision system.
The paper outlines the findings of the first stage of a project to establish the MESL needs for families with children living in the Irish Direct Provision system. This paper will inform a subsequent stage of the project which will include focus groups of people with experience living within Direct Provision.
Following a review of documentation and consultation with an Expert Group, adjustments were made to the MESL baskets to remove items not applicable and to add additional goods and services required when living in Direct Provision.
The paper details these deliberations and adjustments to the MESL baskets. It discusses the total estimated MESL need of these families and examines the adequacy of income supports provided by the State to families living in Direct Provision accommodation.