Budget 2024 MESL Pre-Budget Submission
Issued: June 2023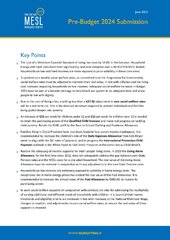 Download
Summary
Budget 2024 is being prepared after a prolonged period of exceptional rises in living costs. This submission builds on the evidence from the MESL to detail the rate adjustments which are required to protect households from being pushed further into income inadequacy.
As Budget 2023 did not protect the real value of core social welfare rates, a greater level of adjustment is required in Budget 2024 to both restore the real value of the social protection system and maintain the value of core rates over the course of 2024. Adequate social welfare increases in Budget 2024 must be part of a broader strategy to benchmark our system to an adequate level and allow people to live with dignity.
The recommendations focus primarily on restoring the real value of social welfare supports, relative to the changing cost of a MESL since 2020.