Budget 2019 MESL Pre-Budget Submission
Issued: July 2018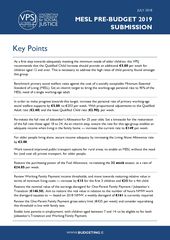 Download
Summary
This submission to Government presents evidence based policy recommendations which build on the progress of recent years in closing the gap between households' needs and the support provided from social welfare. 
It is imperative that the progress made thus far is maintained, and further adjustments to social welfare rates build toward providing a minimally adequate social protection floor for all.
The MESL assessment of income adequacy in 2018 has identified the household types with the greatest degree of income inadequacy, and the gaps in social welfare provision which contribute to this inadequacy. This submission is based on the analysis from the 2018 MESL Update Report.
Attention is drawn to the need to both continue improvements in the adequacy level of general rates and to address gaps in the current system of provision. In addition to continuing to improve the adequacy level of general rates, gaps in the current system of provision must be addressed.
These gaps contribute to the persistent deep income inadequacy demonstrated by specific household types & compositions - households with older children (aged 12 and over) are a case in point.