Budget 2016 Minimum Essential Budget Standards Impact Briefing
Issued: October 2015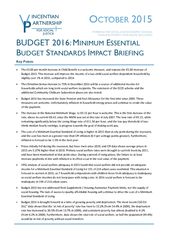 Download
Summary
The €5.00 per month increase in Child Benefit is a welcome measure, and repeats the €5.00 increase of Budget 2015. This increase will improve the income of a two child social welfare dependent household by slightly over 1% in 2016, compared to 2014.
The Christmas Bonus increase to 75% in December 2016 will be a source of additional income for households which are long term social welfare recipients. The extension of the ECCE scheme and the additional Community Childcare Subvention places are also noted.
Budget 2016 has increased the State Pension and Fuel Allowance for the first time since 2009. These measures are welcome. 
The increase in the National Minimum Wage, to €9.15 per hour is welcome. This is the first increase of the rate, above its current €8.65, since the NMW was set at this rate in July 2007. The new rate of €9.15, while remaining significantly below the Living Wage rate of €11.50 per hour, and the low pay threshold of two-thirds median hourly earnings, is progress towards the goal of making work pay.
The cost of a Minimum Essential Standard of Living is higher in 2015 than at any point during the recession, and the cost has risen at a greater rate than CPI inflation (0.9 per centage points greater). Furthermore, inflation is forecast to be 1.5% in the next year.
Prices initially fell during the recession, but have risen since 2010, and CPI data shows average prices in 2015 are 5.37% higher than in 2010. Primary social welfare rates were brought to current levels by 2011, and have been maintained at that point since. During a period of rising prices, the failure to at least increase payments in line with inflation is in effect a cut in the real value of the payment.
VPSJ analysis of social welfare adequacy in 2015 found that social welfare did not provide an adequate income for a Minimum Essential Standard of Living for 191 of 214 urban cases examined. This situation is forecast to worsen in 2016, as 7 household compositions with children move from adequacy to inadequacy as social welfare incomes do not keep pace with rising costs. In 2016 social welfare is forecast to be inadequate in 198 of 214 urban cases.
Budget 2016 has not addressed Rent Supplement / Housing Assistance Payment limits, nor the supply of social housing. The lack of access to quality affordable housing will continue to drive the cost of a Minimum Essential Standard of Living.