2014 MESL Update Report
Issued: June 2014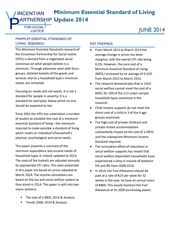 Download
Summary
This paper presents a summary of the minimum expenditure and income needs of household types in Ireland updated to 2014. The costs of the baskets are adjusted annually by appropriate CPI rates. The costs presented in this paper are based on prices adjusted to March 2014. The income calculations are based on the tax and social welfare system as they stand in 2014.
From March 2013 to March 2014 the average change in prices has been marginal, with the overall CPI rate being 0.2%. However, the core cost of a Minimum Essential Standard of Living (MESL) increased by an average of 0.32% from March 2013 to March 2014.
The research demonstrates that in 2014 social welfare cannot meet the cost of a MESL for 199 of the 213 urban sample household types examined in the research.
Child income supports do not meet the direct cost of a child in 3 of the 4 age groups examined.
The high cost of private childcare and private rented accommodation substantially impact on the cost of a MESL and the subsequent Minimum Income Standard required.
The cumulative effect of reductions in social welfare supports has meant that social welfare dependent households have experienced a drop in income of between 5% and 8% from 2008-2014.
In 2014, the Fuel Allowance should be paid at a rate of €25 per week for 32 weeks in the year, to have an annual value of €800. This would maintain the Fuel Allowance at its 2009 purchasing power.